Tea Cocktails as a Trend
By Joanne Shurvell, London Lifestyle Correspondent | 22 March 2018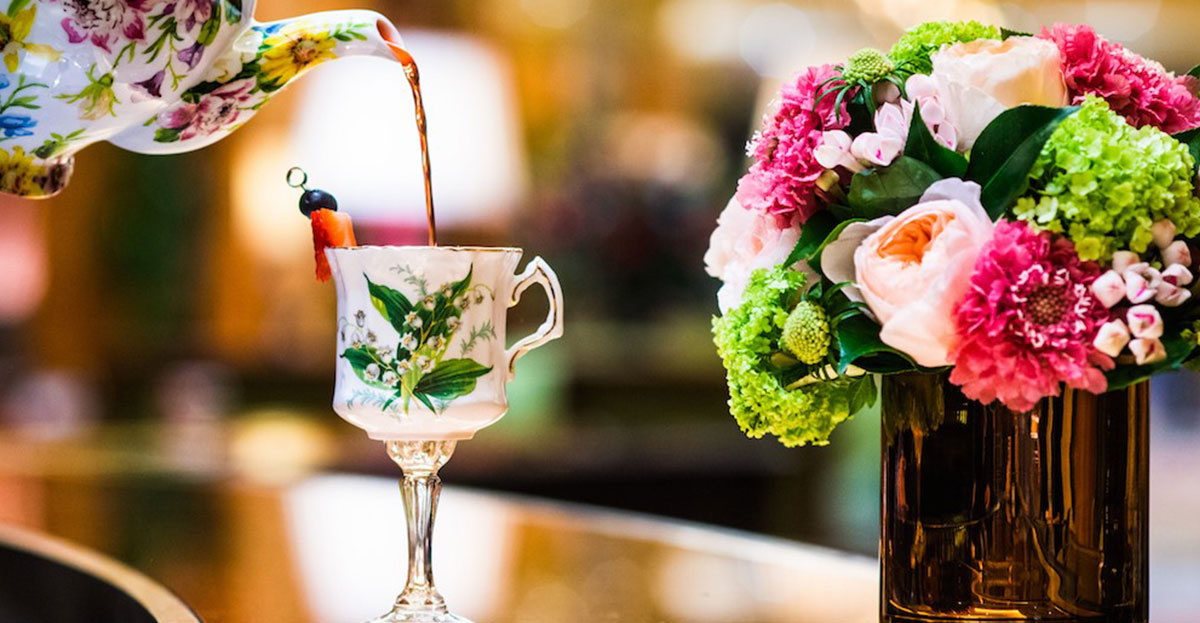 Afternoon tea just got even more fun with the introduction of tea cocktails at many London bars and hotels, some of which are poured from teapots into teacups.
Immersing myself in a new exhibition of Impressionist Edgar Degas' paintings of dancers at the National Gallery on Trafalgar Square was thirsty work so a drink was essential. I popped into the newly renovated Trafalgar St James hotel to sample three non-alcoholic "Tea-Tails". My favorite of these long drinks was Berry Tea, a refreshing blend of black tea, orange juice, citrus and mint. Another combines black tea with peach puree and lemon while the third is a blend of matcha tea, pineapple syrup, raspberry and lime.
Dandelyan at the Mondrian, the winner of this year's world's best cocktail bar award, has a superb booze-free tea gimlet, made with pomegranate and white tea and another called River Phoenix, a blend of burnt apricot and cold-brewed oolong tea.
The Bar at The Dorchester on Park Lane in Mayfair serves Her Majesty's Cup cocktail in a pretty china teacup. This homage to Queen Elizabeth consists of Earl Grey infused berries, rhubarb, and gin, topped with champagne.
As the highest bar in Western Europe, Gong Bar on the 52nd floor of The Shard offers impressive views across the capital as well as seriously good cocktails. Serving movie-themed cocktails inspired by great directors, the Gong bartenders use various blends of teas in several of their drinks. One of the best, "A Cat With No Name," inspired by Blake Edwards (director of Breakfast at Tiffany's and The Pink Panther), is a delicate, fruity concoction combining gin, cordial, lavender and China Lung green tea. This gin cocktail is served in a tea cup and garnished with a chocolate-coated plum. Make this at home and serve in your prettiest tea cups using the recipe below.
"A Cat With No Name"
Ingredients: 40ml gin, 25ml yuzu and umeshu cordial,15ml China Lung lavender infused green tea, 15ml Cocchi Rosa.
Glass: Teacup
Garnish: Chocolate Plum
Method: Stir
34 Mayfair, a bar and restaurant just off Grosvenor Square, in the heart of Mayfair, often draws me in to see its contemporary art collection, including works by British contemporary artist Tracey Emin in an upstairs bar named after Emin. Their tea cocktails are equally artful. Desert Tea, made with white peony leaves, mint, geranium essence & lemon juice is served in a tall glass and garnished with mint leaves and rose petals. Gold Tea, made with oolong rare tea, cacao syrup, orange juice and grated cinnamon is beautifully garnished with gold leaf.
James Bond's famous Martini of vodka and vermouth, "shaken, not stirred" is too strong for my taste. I prefer more ingredients added to my Martinis with tea as an ideal addition. The Portobello Star in Notting Hill, serves a mean gin Martini infused with Earl Grey tea and shaken with lemon juice, sugar and egg white.
Trafalgar St James Hotel
https://trafalgarstjames.com/
Dandelyan at the Mondrian
https://www.morganshotelgroup.com/mondrian/mondrian-london/eat-drink/Dandelyan
The Bar at The Dorchester
https://www.dorchestercollection.com/en/london/the-dorchester/restaurant-bars/the-bar-at-the-dorchester/
Gong Bar
https://www.the-shard.com/restaurants/gong/
34 Mayfair
https://www.34-restaurant.co.uk/
The Portobello Star in Notting Hill
https://www.portobellostarbar.co.uk/