The Royal Wedding of Meghan Markle and Prince Harry
By Joanne Shurvell, London Lifestyle Correspondent | 18 May 2018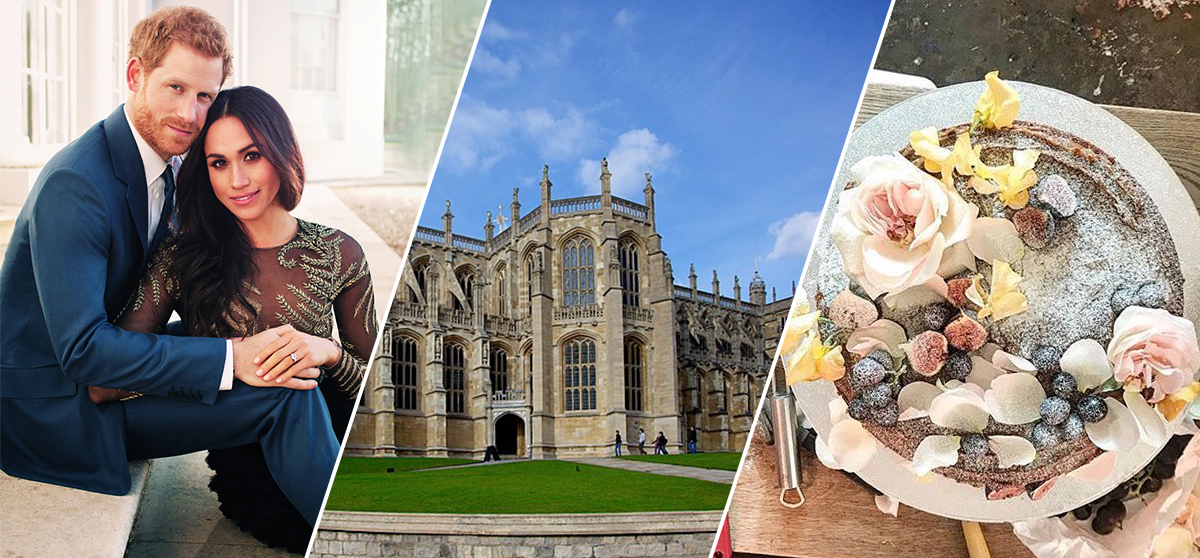 All eyes will be on Windsor castle, 35 km from London, on Saturday 19 May for the most anticipated wed-ding of the year. With the lead up to the day when American actress Meghan Markle marries the world's most eligible bachelor, Prince Harry, everyone wants to know what will the bride wear? Where's the party? What will they eat? Who has been invited? And where will the newlyweds honeymoon?
The Venues
The ceremony will take place at St George's Chapel at Windsor Castle, the same church where the groom's father Prince Charles married his second wife Camilla Parker Bowles and Charles' brother Prince Edward married Sophie Rhys-Jones. A formal reception hosted by Queen Elizabeth will follow at St George's Hall and then on to the fun party nearby at Frogmore House, a royal residence nearby, where rumour has it the Spice Girls will be performing.
The Dress
"Classic and simple is the name of the game, perhaps with a modern twist. I personally prefer wedding dresses that are whimsical or subtly romantic." Meghan Markle
After much speculation and bets being placed, it seems likely that British haute couture house Ralph & Rus-so have designed Meghan's dress. Other famous clients of Tamara Ralph and Michael Russo include ac-tresses Angelina Jolie, Fan Bingbing and Penelope Cruz. We won't know for certain of course until the wed-ding day but insider information is pointing strongly to this hip young design duo who have already designed Meghan's gorgeous engagement dress. Other possibilities are French designer Roland Mouret, a friend of Meghan's or Sarah Burton of Alexander McQueen, who designed Kate, the Duchess of Cambridge's gown. I think that it's unlikely that Meghan would choose the same label as her future sister-in-law. My personal favourite is British-Canadian designer Erdem who is known for his gorgeous floral dresses.
The Cake
The wedding cake maker is to be Claire Ptak, a London-based baker who Meghan previously interviewed on her now defunct lifestyle website The Tig. I love the fact that Meghan and Harry have chosen a young female baker with a bakery cafe in east London. The cake will be lemon and elderflower with fresh flowers used for decoration. Apparently, this will be the first time ever that a Royal couple have not served a fruit cake to their wedding guests.
The Guests
As this royal couple aren't in direct succession to the British throne, they weren't obligated to have any politi-cians at their wedding which means that neither the British Prime Minister Theresa May or the US President Donald Trump were invited. Sadly President Obama won't be going either. Perhaps some of Meghan's former colleagues from the popular TV drama Suits are on the guest list. Look out for Sarah Rafferty (Don-na), Patrick J Adams (Mike) and Wendell Pierce (Robert Zane/Rachel's father) as the most likely invitees.
The Honeymoon
A country in Africa seems likely as they've both spent a lot of time there doing charity work and insiders say that the royal couple will head to Namibia following the wedding. The southern African nation is best known for the spectacular sand dunes of the Namib Desert so maybe they'll go there first and then take a safari in Hoanib Valley Camp, the home of the world's only Africa-wide giraffe conservation organisation. Botswana is also a hot favourite where the couple took holidays early in their relationship but wherever they go they'll be hoping to avoid the limelight for a while as they start their married life together.